View all posts
Press Release: James Hunter, C.U.D.E. and Credit Union Rock Star Named Chief Lending Officer at A.F.C.U.
11/16/2020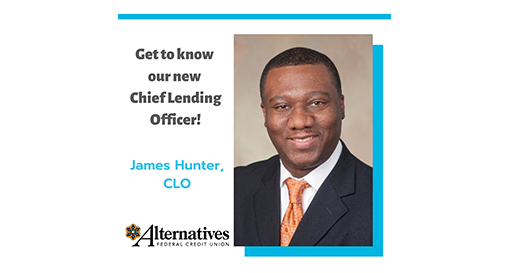 FOR IMMEDIATE RELEASE: James Hunter, C.U.D.E. and Credit Union Rock Star Named Chief Lending Officer at A.F.C.U.
Date: November 12, 2020
Contact: Michelle Courtney Berry, Chief Marketing Officer, A.F.C.U. [email protected]
Ithaca, NY – Alternatives Federal Credit Union is thrilled to announce that James Hunter, C.U.D.E. (Certified Credit Union Development Educator from the National Credit Union Foundation), has been named their new Chief Lending Officer (CLO).
"I am thrilled to welcome someone of James' caliber, enthusiasm, and proven talent to Alternatives Federal Credit Union as our Chief Lending Officer. His lifelong commitment to mission-driven lending, combined with being a champion of credit union service-work, makes him a highly-regarded national leader in the financial industry," said Eric Levine, C.E.O. of Alternatives Federal Credit Union. "I can't wait to unveil to our community the exciting plans we have with James at the helm of our Lending Department," Levine concluded.
"Too many people are so far away from the starting line. That's why I have devoted my life's work to moving the goalposts to ensure equity. Financial inclusion and empowerment are fundamental rights, especially for those who have either been traditionally underbanked, underserved, underinsured, and underappreciated. It is my sincere goal to ensure that everyone has an equal start, and that begins with mission-driven, service-based lending, financial planning, and inclusive visioning," said James.
James was most recently the Executive Director of Lending and Mortgage Director of Real Estate Lending at New Orleans Firemen's Federal Credit Union in Metairie, Louisiana, a $182 million asset credit union. In concert with the credit union mission, James also spearheaded the creation of The Faith Fund. The Faith Fund is a nonprofit designed to help individuals and families better manage their money, escape predatory lending, and achieve financial stability. In James' words, The Faith Fund provided a "financial hand-up to the underserved."
Before this uplifting work, James worked at HOPE Federal Credit Union, a $350 million asset Community Development Credit Union, based out of Jackson, Mississippi. As the Senior Vice President of Mortgage, he provided steadfast leadership and creative vision for the mortgage division and HOPE's overall strategic initiatives. "During his tenure, mortgage lending increased by 117 percent, generating more than $50 million in loans across the Deep South, one of the most impoverished regions of the nation. In 2017, 99 percent of HOPE's mortgage loans were high impact loans made to first-time homebuyers, B.I.P.O.C. persons, and women.
These loans also supported and highlighted the community development financial institution's mission to improve the lives of vulnerable families in a five-state service region." (source: www.Inclusiv.org)
James was recently among 39 credit union professionals (among which was also Kevin Mietlicki, C.F.O. also of Alternatives Credit Union) in the nation selected as a "Credit Union Rockstar." The Credit Union Rock Stars program, managed by the Credit Union National Association (CUNA), recognizes outstanding credit union professionals and volunteers from a wide range of disciplines who use their unique strengths to advance the mission of their credit unions. Winners were those who showed exceptional creativity, innovation, and passion in selecting the winners.
James earned his undergraduate degree in Communication and Marketing from Western Illinois University and is currently pursuing an MBA degree. Besides his numerous volunteer projects and commitments, he is incredibly proud of his work for Habitat for Humanity and Salvation Army's Angel Tree program. James also is on the Executive Board of Directors of Inclusiv, where he is the Chairperson of the Mortgage Committee. Inclusiv is the new name of the National Federation of Community Development Credit Unions. Its mission is to help low and moderate-income people and communities achieve financial success through credit unions.
A series of Open Houses" and Community "Meet & Greets" to welcome James Hunter to the communities w e serve will occur on (November 19, December 2, and December 11). The Marketing Department will be working in partnership with the Community Programs Department to plan these engaging events for the new CLO.
ABOUT ALTERNATIVES FEDERAL CREDIT UNION (A.F.C.U.) Alternatives Federal Credit Union is a locally-based, award-winning Community Development Credit Union (C.D.C.U.) recognized for its innovative programming, forward-thinking economic justice initiatives, and its steadfast commitment to creative consumer and business financial coaching, credit counseling, and community-minded lending solutions designed to help build economic empowerment to those most in need. Since its founding in 1979, Alternatives has been an integral part of our region's history. Alternatives Federal Credit Union is also a Community Development Financial Institution (C.D.F.I.), dedicated to building wealth and creating economic opportunity for underserved people and communities. We are located on 125 N. Fulton Street in downtown Ithaca. Visit us on the web at: www.alternatives.org