View all posts
AFCU Marketing Wins Prestigious National Diamond Award for "Best in Category: Social Media"
04/22/2021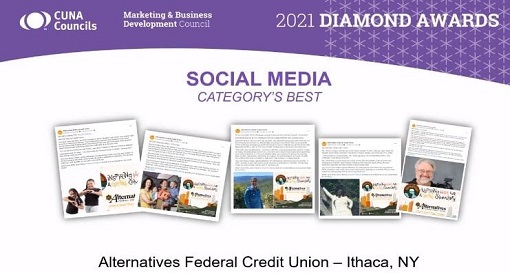 ALTERNATIVES FEDERAL CREDIT UNION MARKETING WINS PRESTIGIOUS NATIONAL DIAMOND AWARD FOR "BEST IN CATEGORY: SOCIAL MEDIA"
MADISON, Wis., and WASHINGTON (April 22, 2021) CUNA Marketing & Business Development Council celebrated Diamond Awards Week last week on April 16, by announcing winners in 35 categories through a series of daily virtual award ceremonies. Turnout was outstanding for this year's award competition with 1,278 entries submitted. Six credit unions won Best of Show Awards, 86 won Category's Best Awards and 264 won Diamond Awards.
"The Diamond Awards competition is the most prestigious competition for excellence in marketing and business development in the credit union industry," said Amy McGraw, diamond awards chair and VP marketing/chief experience officer at Tropical Financial CU. "Credit unions that receive these awards should be extremely proud of their accomplishments and know that their work represents the very best examples of creativity, innovation, relevance, and execution."
Alternatives Federal Credit Union took home a "Diamond Award and Best in Category for Social Media" for its portrayal of a wide variety of diverse member stories that featured and celebrated the role of the credit union movement and AFCU in the lives of its amazing members. Stories were requested from members (in their own words) and brought to life on Facebook and Instagram by AFCU's head of social media and strategic digital communications manager Grace Rychwalski.
In her speech, Rychwalski thanked AFCU's amazing members who agreed to tell their stories and be featured, the staff at AFCU, and the Marketing Department CMO. She concluded that she was "heartened" by the work done each and every day for members by a team of caring staff and a community invested in the credit union movement.
WATCH Grace Rychwalski, Strategic Digital Communications Manager at Alternatives Federal Credit Union and Ithaca College alumnus accept the award on behalf of AFCU: https://bit.ly/DIAMONDAFCU - Grace appears at about 39.43 into the video.
WATCH #ICU Day Video "Inspiring Hope for a Global Community"- https://www.facebook.com/watch/?v=742768056278192
About International Credit Union Day
Celebrated for the first time in 1948, this annual event raises global awareness for the credit union movement through outreach, volunteering, fundraising, and more. Credit Unions bring financial inclusion and a promising future to people all over the world. Last October's theme, "Inspiring Hope for a Global Community" held particular resonance because, "credit unions from across the world provide hope through financial services, education, and support...particularly in the ways that they advanced the lives of members during the economic uncertainty wrought by the COVID-19 pandemic," said Michelle Kamke, marketing projects manager at CUNA.
About CUNA
Credit Union National Association (CUNA) is the only national association that advocates on behalf of all of America's credit unions, which are owned by 120 million consumer members. CUNA, along with its network of affiliated state credit union leagues, delivers unwavering advocacy, continuous professional growth, and operational confidence to protect the best interests of all credit unions. For more information about CUNA, visit cuna.org
FOR IMMEDIATE RELEASE
For more information about CUNA & The Diamond Awards
Lauren Williams - CUNA Communications; (202) 626-7642; [email protected]
Julie Lang - CUNA Councils; (608) 231-4018; [email protected]
For more information about this award at AFCU;
Michelle Courtney Berry, Chief Marketing Officer (CMO)