View all posts
News Release: AFCU Announces BIPOC Prosperity Fund of Tompkins County
05/13/2021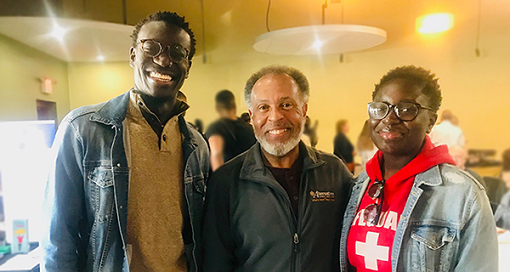 Alternatives Federal Credit Union (AFCU) Announces BIPOC Prosperity Fund of Tompkins County
Community partnership designed to close the wealth divide
(Ithaca, NY – May 3, 2021) – Earlier this spring, Alternatives Federal Credit Union announced a groundbreaking partnership with the Park Foundation —with this community development credit union slated to receive $350,000 in 2021 and another $350,000 next year in 2022. These funds are specifically geared toward helping BIPOC (Black, Indigenous, People of Color) own homes and/or own businesses, through a matched savings program called the "BIPOC Prosperity Fund of Tompkins County."
By restricting the target population to BIPOC populations for this funding, AFCU ensures that "the powerful tool of money," goes to those who can use it best to reshape the community around them. It is the goal of this program to make effective and impactful structural shifts in Tompkins County.
To field community questions, provide answers, and open dialogue about this exciting program, AFCU held a virtual community open house on Thurs. April 29, 2021, from 12 noon to 1 p.m. on Zoom. Over 80 people registered for the event, showing great enthusiasm for the program. The virtual open house was hosted by Gladys Brangman, business development consultant for Alternatives Federal Credit Union and owner of Business Leaders of Colors and Kim Ritter, Financial Empowerment Specialist at AFCU. During the Open House organizers stressed that there were limited slots available and encouraged prospective applicants to set up meetings with program staff immediately.
"We are thrilled to be working with the partnership who developed the BIPOC Prosperity Fund of Tompkins County. This program has been designed by people of color for people of color and will forge a new pathway toward wealth and ownership that consciously benefits those who have often been systematically excluded. This program addresses systemic disparities and will hopefully help build a community that is open and just for all," said Adelaide Park Gomer, President of the Park Foundation.
"This exciting new project is a community-wide effort—aimed at disrupting the local landscape in a way that seeks to put an end to the cycles of racism and poverty in Tompkins County," said Kathleen Clark, Senior Director of Community Development and Economic Development at Alternatives Federal Credit Union. "As a cooperative Community Development Credit Union (CDCU), we know firsthand what happens when low-income people are afforded the opportunity to own and steward assets—they're able to build wealth. With this extremely generous donation from the Park Foundation, Alternatives will be able to assist people of color (POC) with the down payment for a home and/or business counseling to open a business, with matched savings and grant funds to start or expand an existing business," Clark concluded.
"We know that helping BIPOC businesses sustain and expand their operations, plus the many businesses that will be kept open through the Emergency Fund are all part of our mission-critical work. Through this assistance, BIPOC business owners can effectively elevate BIPOC job creation, BIPOC talent, and expand the community tax base," said Eric Levine, CEO of Alternatives Federal Credit Union.
Alternatives Federal Credit Union (AFCU) cites this project as "a community effort," aimed at putting two major drivers of wealth accumulation - homeownership and business ownership - into the hands of BIPOC community members.
As such, this project is not simply a new matched savings program or emergency fund, nor a loose coalition of community organizations. It's a brand-new way of looking at development built on the most progressive, data-driven thinking available on community change-making.
About Alternatives Federal Credit Union
Alternatives Federal Credit Union (AFCU) is a locally-based, award-winning Community Development Credit Union (CDCU) recognized for its innovative programming, forward-thinking social justice initiatives, and its steadfast commitment to innovative consumer and business financial coaching, credit counseling, and community-minded lending solutions designed to help build economic empowerment to those most in need.
Since its founding in 1979, this CDCU has been an integral part of our region's history. AFCU's mission is to build wealth and create economic opportunities for those who need us most in our immediate community and region.
To find out more information about this new initiative, please contact: Kathleen Clark, Senior Director of Community and Economic Development at: [email protected]
For news media assistance, contact: Michelle Courtney Berry, Chief Marketing Officer at [email protected]
###