View all posts
News Release: AFCU to Celebrate Annual Meeting on June 22, 2021
06/11/2021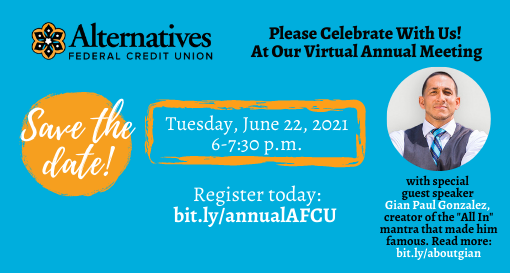 2020 was full of challenges, but our community came together to do amazing things.
Celebrate with Alternatives Federal Credit Union at our Virtual Annual Meeting on Tuesday, June 22, 2021 from 6-7:30p.m. on Zoom.
During this free virtual event, we will be honoring our community for all their hard work and resilience over the past year.
Also, don't miss our keynote speaker Gian Paul Gonzalez, creator of the "All In" mantra that made him famous and led the New York Giants football team to win the Super Bowl: bit.ly/aboutgian
All are invited to register here: bit.ly/annualAFCU