View all posts
AFCU Announces 2021 Living Wage Study
07/01/2021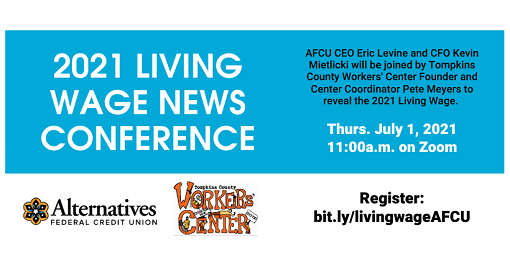 News Conference on Zoom was held on Thurs. July 1, 2021, from 11:00 am to 11:30 a.m.
Living Wage 2021
CONTACT(s):
About this year's Living Wage – contact Kevin Mietlicki, CFO [email protected]
As relates to work of Tompkins County Workers' Center – contact Pete Meyers, Coordinator, [email protected]
For media inquiries – contact Michelle C. Berry, CMO, [email protected]
Alternatives Federal Credit Union Announces 2021 Living Wage in Partnership with
The Tompkins County Workers' Center
Background
Alternatives Credit Union conducted its first Living Wage Study in 1994 to address internal employee concerns about compensation levels. Rather than looking at what competitors paid, or what the statutory minimum wage was, AFCU researched what it took to support a person above the poverty level.
"What is now known as a "landmark study," and a "benchmark" for other entities to follow was originally intended for internal use by Alternatives. However, its release to the public was encouraged by Alternatives' Board of Directors," said AFCU CEO Eric Levine. Since 1994, the Living Wage Study has stimulated important discussions about the meaning of earning a Living Wage and provided a benchmark for others in the county to use," Levine concluded.
"It is always our pleasure to partner with Alternatives every two years with this important initiative. The Living Wage Campaign's mission is to create a minimum wage that is a Living Wage. Tompkins County Workers' Center (TCWC) is home to the nation's first Living Wage Employer Certification program," said Pete Meyers TCWC Co-Founder and Center Coordinator. "18 new businesses applied for and received first time certification as Living Wage employers since the last Living Wage study in 2019," Meyers concluded.
Living Wage Study and The Tompkins County Workers' Center
The Tompkins County Workers Center publishes a list of Certified Living Wage Employers on their website. The Tompkins County Workers Center has a process for businesses to become certified Living Wage employers and encourages the community to support those organizations and businesses. Their website tcworkerscenter.org lists Certified Living Wage Employers.
"We have had the pleasure of updating this study every two years. Traditionally, we have announced the Living Wage during a biennial news conference, in partnership with the Tompkins County Workers' Center. The Workers' Center uses this study to certify local employers who choose to pay their employees a living wage," said Kevin Mietlicki, CFO at AFCU.
Rob Brown, Consultant to the Tompkins County Workers' Center provided a context for this year's calculations, given health care subsidies from the federal government. He then discussed why a single payer system would be most advantageous. "Publicly financed but privately run health care for all would cost employers far less in taxes than their overall costs for insurance. With universal coverage, otherwise known as single payer system, employers would no longer be required to pay for medical care as part of compensation packages offered to workers," said Rob Brown, Consultant to the Tompkins County Workers Center.
2021 Living Wage
The 2021 calculation for a livable wage in Tompkins County is $15.32. It is slightly lower than AFCU's for the first time, based on health insurance reimbursements during pre- and post-COVID. AFCU's rate for its employees is $15.74.
Why is a Living Wage Important?
"Doing business with a Living Wage employer is important to many of our members. Alternatives' leadership in the living wage movement impacts many people in Tompkins County, including members businesses inspired by our example, and their employees. The more this is used in our community the bigger impact it will have on many of our members that work at the lower end of the wage spectrum," Mietlicki concluded. A Living Wage not only benefits employees but has advantages to businesses too. It can reduce employee turnover and absenteeism, lower recruitment and training costs, and improve morale and commitment to the company."
"We passionately believe that employees who are treated fairly offer better member service. As an organization dedicated to creating economic opportunity and empowerment, we recognize that wages are the critical component in financial wellness and capability," said Levine.
Impact of the 2019 Living Wage Study: Implications for 2021
On the principle of using the most up-to-date and most local publications and data where available, these notes include the sources of the publications and data referred in the 2021 Living Wage Study. All percentage increases/decreases marked in parenthesis indicate the change from the same numbers used or obtained in the 2019 Living Wage Study and other previous studies for comparative purposes.
Calculations Link on the AFCU Website:
https://www.alternatives.org/about/impacting-our-community/living-wage-study.html
About Alternatives Federal Credit Union
Alternatives Federal Credit Union (AFCU) is a locally based, award-winning Community Development Credit Union (CDCU) recognized for its innovative programming, forward-thinking social justice initiatives, and its steadfast commitment to innovative consumer and business financial coaching, credit counseling, and community-minded lending solutions designed to help build economic empowerment to those most in need. Since its founding in 1979, this CDCU has been an integral part of our region's history. AFCU's mission is to build wealth and create economic opportunities for those who need us most in our immediate community and region. For news media assistance, contact: Michelle Courtney Berry, Chief Marketing Officer at [email protected]