View all posts
AFCU CEO Eric Levine's Remarks on the 2021 Living Wage at Biennial News Conference Held on Thurs. July 1, 2021
07/05/2021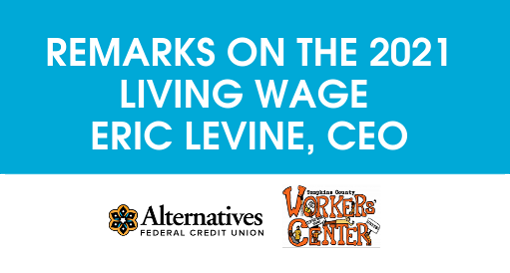 Watch the Living Wage News Conference
AFCU CEO Eric Levine's Remarks on the 2021 Living Wage at Biennial News Conference Held on Thurs. July 1, 2021
CEO Eric Levine:
Yesterday was an exciting day, as Alternatives Federal Credit Union released our biennial Living Wage Study in a very nice Zoom news conference arranged by our CMO Michelle Courtney Berry and our Strategic Digital Communications Manager, Grace Rychwalski. Our CFO, Kevin Mietlicki, also joined us in the news conference. Kevin took over responsibility from Karl Graham, our former Chief of Community Development who retired in February.
This year, Kevin managed the calculation of the 2021 living wage. Eddie Moran, IT Support Specialist, assisted as well, together with support from interns from Cornell University. The study is posted on our website: https://www.alternatives.org/_/kcms-doc/1450/65857/2021-Living-Wage-Study.pdf
Our credit union has been calculating the wage every other year since 1994. Thereafter, the Tompkins County Workers' Center started a certified Living Wage Employer program: https://www.tcworkerscenter.org/campaigns/living-wage-certification/
The wage used by The Workers' Center is different than the Alternatives' Living Wage, because of the Health Insurance cost component. AFCU calculates the living wage based on what our staff pay towards healthcare. The Tompkins County Workers' Center calculates the living wage based on no employer health insurance contribution. This is the first year Alternatives' wage calculation is a higher wage than the Workers' Center.
This is because employees who are not provided an "affordable option" from their employer, have access to government-regulated marketplace health insurance, which at this time is heavily subsidized – rendering it cheaper than what many private insurance companies charge.
For this reason, Alternatives' Living Wage increased from $14.34 in 2019 to $15.74 in 2021. And the Workers' Center calculation decreased from $15.37 in 2019 to $15.32 in 2021.
However, the entry-level wage at AFCU since April of this year is $16.00, the second time we have increased our wage above the Living Wage calculation.
AFCU staff members are not eligible to obtain the cheaper marketplace health insurance (which includes a premium tax credit), because Alternatives provides coverage that is deemed "affordable" – meaning a health plan covering only the employee that costs 9.83% or less of the employee's household income. See: https://www.healthcare.gov/glossary/affordable-coverage/
Many of you know this living wage study is a "landmark study". But it was originally intended for internal use only by Alternatives. However, the Living Wage's release to the public was encouraged by Alternatives' Board of Directors and we're proud that now, for 27 years, this study has stimulated important discussions about the meaning of earning a Living Wage and provides a benchmark for others to use.
By tuning in today, you may be someone like me, who believes the legal minimum wage should be a Living Wage. We didn't originally calculate the Living Wage in order to start a movement. We did it to be a good and fair employer with a dedicated staff that could participate in the local economy. But we're very glad for the Living Wage movement.
Our Living Wage study started when an Alternatives entry-level teller, complained that she wasn't earning enough to pay her expenses. Our now-retired COO Leni Hochman at the time could have told the employee that Alternatives was paying the going rate, but instead, Leni wanted to know how much a single person would actually NEED to live in Tompkins County, albeit frugally.
Thus the study was born and adopted. Alternatives' Board of Directors supported raising wages to a living wage, and all staff supported the resulting compression in wages.
We believe the Living Wage is vital and we recognize the living wage calculation is the bare minimum to pay an employee - because many people who've had to live on our calculated living wage, know it's not easy. It's a starting point for a single person, but it could still take two incomes or more, depending on an employee's circumstances.
We also recognize our hourly staff at Alternatives work hard, and their jobs are very demanding. Most recently, our frontline essential staff show up day after day during the pandemic and took on more and more responsibility. We couldn't expect this great member service and morale, paying mere poverty wages.
The bottom line, we believe the Living Wage is a wise investment, and the return on investment is great. It's great for the employee, it's great for the employer, and it's great for the community. And we're happy this day is here, to update the wage calculation once again.