View all posts
News Release: Kathleen Clark Named Credit Union Rock Star by CUNA
10/04/2021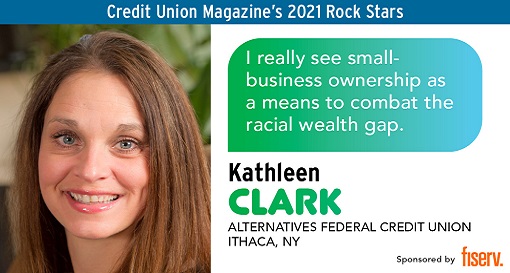 MADISON, Wis., and WASHINGTON (Oct. 4, 2021) – Kathleen Clark, Senior Director of Community and Economic Development at Alternatives Federal Credit Union, is among 31 credit union professionals and volunteers named as 2021 Credit Union Rock Stars by the editorial team of Credit Union Magazine.
The Credit Union Rock Stars program recognizes outstanding credit union professionals and volunteers from a wide range of disciplines who use their unique strengths to advance the missions of their credit unions. This year's winners were selected for their exceptional creativity, innovation, and passion.
Kathleen Clark is being recognized for her work with local small businesses, with a particular focus on businesses owned by women and people of color. Her story appears on CUNA News, a website published by the Credit Union National Association (CUNA).
"The 2021 class of Rock Stars is diverse in its backgrounds and strengths," said Michelle Willits, publisher of Credit Union Magazine. "During the past year's trying times, these Credit Union Rock Stars used their unique characteristics to serve their members, their communities, and their co-workers."
Sponsored by Fiserv, Credit Union Rock Stars will be profiled in a special digital issue of Credit Union Magazine.
Click here to read Kathleen's CU Rock Star Story
Check out all the winners and read their stories at news.cuna.org/rockstar.
###
About CUNA
Credit Union National Association (CUNA) is the only national association that advocates on behalf of all of America's credit unions, which are owned by 120 million consumer members. CUNA, along with its network of affiliated state credit union leagues, delivers unwavering advocacy, continuous professional growth and operational confidence to protect the best interests of all credit unions. For more information about CUNA, visit cuna.org. To find your nearest credit union, visit YourMoneyFurther.com.
About Alternatives Federal Credit Union (AFCU)
Alternatives Federal Credit Union (AFCU) is a locally-based, award-winning Community Development Credit Union (CDCU) recognized for its innovative programming, forward-thinking social justice initiatives, and its steadfast commitment to innovative consumer and business financial coaching, credit counseling, and community-minded lending solutions designed to help build economic empowerment to those most in need.
Since its founding in 1979, this CDCU has been an integral part of our region's history. AFCU's mission is to build wealth and create economic opportunities for those who need us most in our immediate community and region.
For news media assistance, contact: Michelle Courtney Berry, Chief Marketing Officer at [email protected]